Florence Nightingale visits Year 1 & 2
Florence Nightingale visits Year 1 & 2
26 January 2017 (by admin)
Florence Day topic 'Lady of the Lamp'.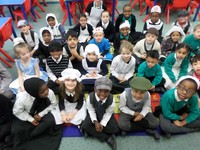 The children met our visitor Florence Nightingale! We completed art and writing activities and then experienced what it would be like to work in the Scurati Hospital. The children had the opportunity to dig vegetables for the patients and learnt how to apply bandages to wounded soldiers. The experience of the day will definitely enhance the children's literacy work over the next few weeks.
See more photos under the News tab.